How It Works
Custom built dash mounting in 2 simple steps.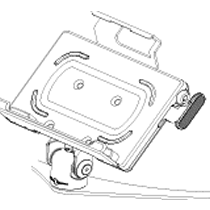 Enjoy a securely mounted device in your vehicle
InDash Mounts
The heavy-duty dashboard mounting solution. Engineered for safety and durability to suit ADR guidelines. Fully adjustable swivel head for versatile in-car computing.

Custom designed to fit your vehicle – no drilling or cutting required.
Docking Stations
Sturdy, durable docking stations for your tablet or detachable laptop, custom designed for a perfect fit. Secure your device with our lockable system for peace of mind. Lightweight and rugged aluminum chassis for stable display, in-motion and off-road.
Combine with an Industrial Evolution inDash mount for a complete mounting solution.
Surfboard
The new generation of in-car mounting. Temporary, universal and fully portable. Designed for safety and versatility. Engineered to securely hold your laptop, tablet, PDA or GPS unit in place while driving. Pair with any Industrial Evolution docking station to mount your compatible display device.
The Surfboard is an innovative car mount for seamless mobile computing. Easy to install – no assembly required.